What Makes Property Management Companies Different?
So, you own or run a property management company. Do you know what your points of differentiation are from your competitors? Having these differentiations and understanding them will help you scale past your competition. There are many real estate investors looking for the best property managers to manage their portfolios. Real estate property owners are always comparing property managers to one another. Their investments are important and they want to find the best property manager that they can trust.  You need to stand out!
Parity vs Differentiation
I'm not talking about your points of parity, that is a given, but points of differentiation are what will drive your company in the typical hockey stick trajectory.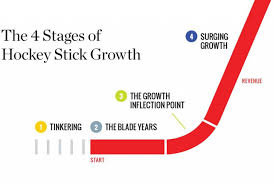 Here's what I'm talking about. In the property management business, there are certain parity points such as ability to communicate with tenants and owners, financial reports, accounting, syndication of properties, background screening etc. Offering these features are not going to pull you out in front of your competition. They are merely features that allow you to be part of the competition. Without these (and other) features, you might as well sit on the bench until you do.
Differentiation are those items that set you apart from others in your field. For example, If you do not require a contract while your competitors do, that is one point of differentiation. You would think that a slogan such as 'Great Customer Support' would be a parity point. Unfortunately, many property management companies really suck at this.
So, for the time being, 'great customer support' could be another differentiation. This includes outstanding communication back and forth with your customers (the owners) as well as tenants. Answer all calls, emails, SMS asap and if unable to take a call, return calls when you say you will. Believe me, there are so many problems with communication, or lack of, that this is one area that you can really excel past your competition.
Making Changes
There are many ways to differentiate yourself from other professional property managers. Such as pricing, taking on smaller portfolios, conducting regular inspections, expanding market territory and so on. The purpose for this blog is to first, get you to identify the difference between what parity points are and what points of differentiation are, as it relates to your property management company.
Then with that in mind, for you to recognize those points that separate you from your competition. You may or may not have those points currently in place, but if you will put some critical thinking into this subject, you can find those points and implement them into your business practices.
Then watch your real estate management company pull ahead of your competitors.
About PropertyZar
PropertyZar is a real estate technology company specifically in the web-based property management software for owners and professional property managers. Learn more www.PropertyZar.com